best adblock browser for android
Ad blocker browser for android is a must if you want to shield yourself from bloated advertising, various pop-ups, videos, and other format graphics that appear when browsing on your Android device.
For this reason, we have tried the best browsers for 2023 that can be used on Android devices.
We have rigorously tested all browsers to make sure they actually work and block the most popular adware. In addition, we have provided an overview of the functions, features, privacy measures, etc. of each tool. Keep reading to find our best pick.
1- DuckDuckGo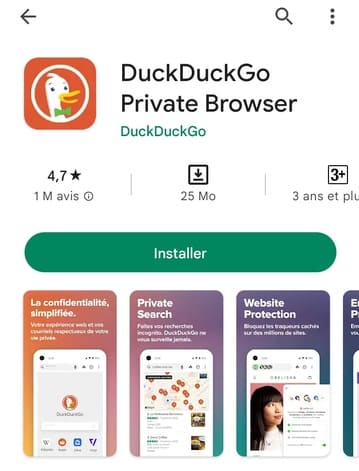 The DuckDuckGo app provides the most comprehensive online privacy protection with the push of a button. With one free download, you get an everyday private Internet browser that offers seamless protection while you search and browse, and access to tracking protection for emails you receive and apps you use. Many of these protections are not offered in most popular web browsers by default.
DuckDuckGo Features
You can search for the data more privately and safely.
It does not track or store what you searched for.
You can block millions of websites that contain hidden trackers.
DuckDuckGo is available for free.
It is one of the most secured browsers for Android TV.
Download Apk: https://m.apkpure.com/duckduckgo-private-browser/com.duckduckgo.mobile.android
2 Puffin Browser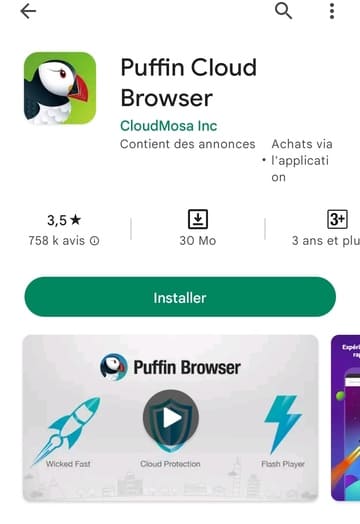 Puffin Web Browser Free is an Internet browser whose main strengths, compared to competing apps for Android, are speed and excellent support for flash, which comes with it. That's right: with this browser, you can run pages (or games) in flash.
This means you can watch any video or play any flash game without problems directly from your browser. The only drawback is that, depending on the website in question, the device might slow down a bit. But, of course, this is better than nothing.
Puffin Browser Features
There are lots of features that the developers highlight on their Google Play page and on their website, some of these are:
Puffin speeds up mobile browsing by shifting the workload from the resource-limited devices to the cloud servers, and resource-demanding webpages can run super-fast on your phones or tablets.
According to the official site, Puffin Browser is the only browser optimized for Android TV for video watching, music listening and Internet surfing. Puffin TV-Browser is faster than other browsers or even native apps on high-end Android TV / Set-Top Boxes.
CloudMosa leverages the browser isolation technology to safeguard your web browsing in the cloud and keep threats like malware, ransomware, adware, and malicious links at bay.
Like any other browser like UC Browser, the Puffin browser too has a Newsfeed that brings you the latest, breaking news from the world's best journalists, which keeps yourself up with what's happening in the world.
Download Apk: https://m.apkpure.com/puffin-cloud-browser/com.cloudmosa.puffinFree
3 Lightning Browser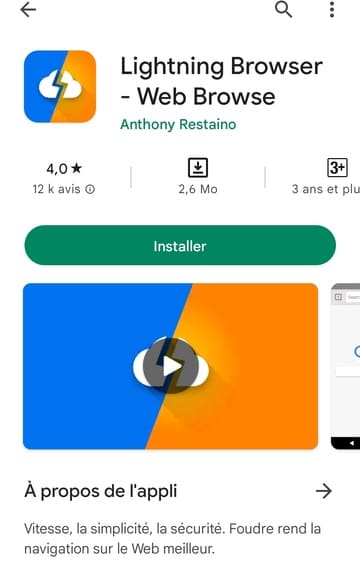 Lightning is a simple, fast web browser that focuses on design, security, and efficiency. It uses material design, doesn't track you, gives you lots of options to protect your privacy. It gets out of the way of the user.
Blocking ads is a core feature of Lightning Browser,
meant to improve the speed and security of your browsing experience. Lightning's interface was carefully crafted so you can browse as efficiently as possible. Tabs and Bookmarks are all tucked neatly away in side drawers, only a swipe away, allowing maximum screen viewing with minimal interference from the browser's chrome. Dark mode, light mode, color mode, night mode. Anyway, whatever you like, there's a mode for you. By utilizing the WebKit rendering engine that comes built into your Android device, Lightning can ensure a swift, lightweight experience.
Download Apk : https://lightning.en.uptodown.com/android
4 Firefox Browser android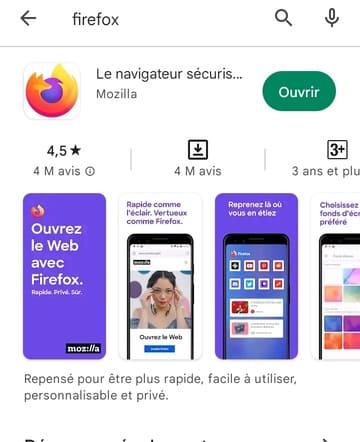 Get the people-first browser that's backed by a non-profit.
It's a new era in tech. Don't settle for a browser produced by giant, profit-driven, data-hoarding tech companies. Firefox is the obvious choice for independent, ethical tech that respects your privacy and gives you more ways than ever before to tailor your internet experience exactly the way you want it.
Download Apk : https://firefox.en.uptodown.com/android
5 Vivaldi browser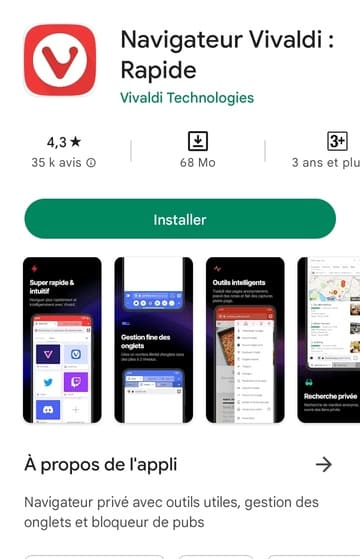 Vivaldi has taken its advanced and is available on Android devices. This easy-to-use browser that has lots of options is an exciting prospect.
The world at your fingertips
Vivaldi is what you've been waiting for, a browser alternative that could change the way you access websites.
Vivaldi is full of features that will enhance your web browsing experience, and they have the basics covered. You'll be pleased to discover that they offer features such as bookmarks, syncing, and favorites as well. They take it a step further and provide useful tools, such as a note-taking section. This is great for anyone researching something online; you can create notes directly from web text and search them, too.
Download Apk : https://vivaldi.en.uptodown.com/android
6 Browsehere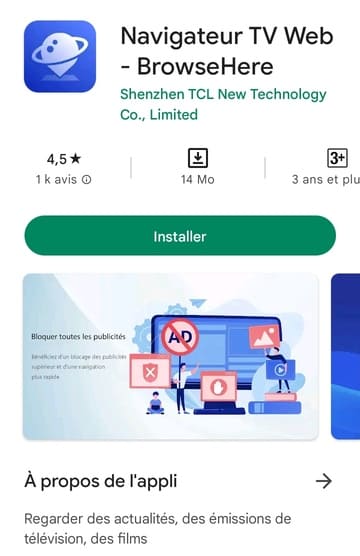 TV browser BrowseHere is one of the most UI refined TV internet web ad-block Videoplay browsers available for free for TCL Android TV and Android TV box and Android Set-top Box. You can easily stream movies, TV Shows, Anime, Videos, and surf the web without ads. With built-in Android TV OS support, it is fully functional with the TV remote. It includes features such as bookmarks, browsing history, search engines shortcut, and cookies blockers.
For download and more about Browsehere read our article :
Best Android TV browser for streaming 2023
Download Apk : 
7 Opera Browser
Opera Browser is an alternative to the default Android browser, and allows you to quickly browse the Internet without making a large dent on your terminal´s performance.
The browser uses Opera's servers to compress Web pages, and allows you to load them much faster, so you can not only save time, but also money (if you are using 3G browsing).
The browser interface looks great on any Android device, giving it a very sleek and, above all, functional look. In addition, you can easily zoom in by 'pinching the screen' and have multiple touch shortcuts to navigate in a way that is more comfortable than other browsers.
Thanks to the Opera Link service, you can synchronize your bookmarks, shortcuts and general options, and share them with your desktop and mobile terminal, which is useful for users who tend be on the move.
The application comes with automatic support for social networks like Twitter and Facebook. Thanks to this, they will be much faster to use. You may also download any files easily and store them in the terminal memory ready to access from a desktop later.
Opera Browser is a great alternative for browsing the Internet from an Android device, either on a mobile phone or a tablet. It has everything you need and is a joy to use, meaning you do not have to deal with many of the complications that often come hand in hand with mobile browsing.
Download  Apk: https://opera-browser.en.uptodown.com/android
LIKE
WHAT IS INTERNET PROTOCOL TELEVISION